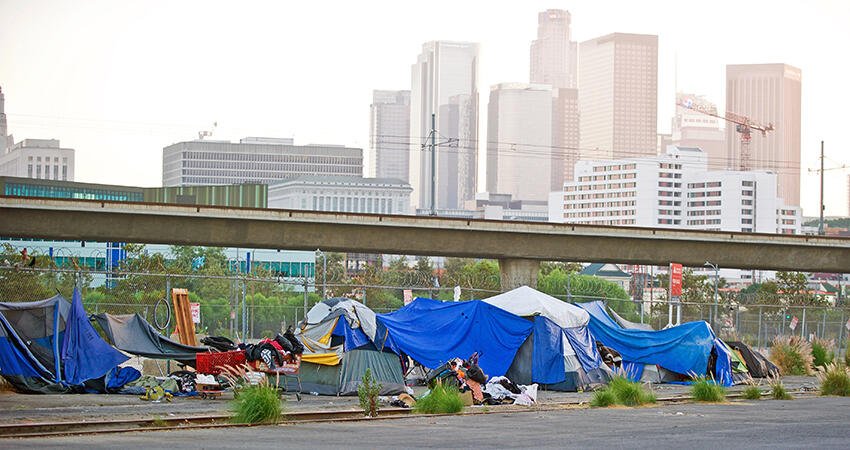 Over Half a Million People Experienced Homelessness in 2022
Title:

The 2022 Annual Homelessness Assessment Report to Congress

Author:

The Department of Housing and Urban Development

Source:

Publication Date:

2022
In 2022, more than half a million people experienced homelessness on a given night according to the US Department of Housing and Urban Development's Annual Homeless Assessment Report (AHAR) to Congress.
The report provides estimates of homelessness in the United States based on data collected during the Point-in-Time (PIT) count, which takes place annually in January. The PIT count is a one-night snapshot of sheltered and unsheltered homelessness in the United States, which involves counting the number of individuals and families experiencing homelessness in shelters and on the streets.
The AHAR report also includes information on available beds in emergency shelters, transitional housing programs, safe havens, rapid re-housing programs, permanent supportive housing programs, and other permanent housing.
Because of the COVID-19 pandemic's impact on the 2021 PIT counts, this report compares the 2020 and 2022 datasets, marking the first time this report doesn't use the previous year's data for benchmarking purposes. Fewerthan half of communities (226) conducted a full or partial count in 2021.
In 2022, 387 Continuums of Care (CoC)—regional planning bodies that coordinate housing and services for homeless families and individuals—of the roughly 400 CoCs reported the PIT estimates of people experiencing homelessness in sheltered and unsheltered locations, along with the count of available beds.
Key findings
On a single night in 2022, roughly 582,500 people were experiencing homelessness.
Between 2020 and 2022, the number of people experiencing either sheltered or unsheltered homelessness increased slightly by 1,996 people (or less than 1 percent).
In 2022, 6 in 10 people were staying in sheltered locations—emergency shelters, safe havens, or transitional housing programs—and 4 in 10 were in unsheltered locations, such as on the street, in abandoned buildings, or in other places unsuitable for human habitation.
The number of people in unsheltered locations rose by 3 percent since 2020, while the number of people staying in shelters decreased by 2 percent.
More than half the people experiencing homelessness in unsheltered locations were in urban areas (60 percent), and the rest were split between rural (19 percent) and suburban areas (21 percent).
The report found that Black people were overrepresented, making up 37 percent of all people experiencing homelessness and 50 percent of people experiencing homelessness as members of families with children, despite only making up 12 percent of the US population.
The number of veterans experiencing homelessness declined by 11 percent between 2020 and 2022.
More than 30,000 people younger than 25 experienced homelessness on their own as "unaccompanied youth." Four percent of the unaccompanied youth population identified as transgender, not singularly female or male, or gender questioning, compared with 1 percent of all people experiencing homelessness.
People experiencing chronic homelessness—defined as living in a homeless situation for at least 12 months or experiencing at least four separate occasions of homelessness in the past 3 years—accounted for nearly one-third of the overall homeless population.
Sheltered homelessness among individuals experiencing chronic homelessness doubled between 2016 and 2022.
More than half of all people experiencing homelessness in the country were in four states: California (30 percent), New York (13 percent), Florida (5 percent), and Washington (4 percent).
The national inventory of beds for people currently or formerly experiencing homelessness increased by 105,459 (11 percent) between 2020 and 2022.
The largest increases in year-round inventory occurred in emergency shelters (28,548 more beds), rapid re-housing (27,166 more beds), and other permanent housing (40,221 more beds).
Noncongregate beds increased by 243 percent between 2020 and 2022. This increase reflects a response to the COVID-19 pandemic, in which many communities made investments in single-occupancy rooms in hotels or motels, to combat pandemic-related risks.
Policy implications
To address homelessness in the United States, policy solutions could include increasing funding for affordable housing initiatives, expanding homelessness prevention programs, implementing Housing-First policies that prioritize providing housing as quickly as possible, and collaborating with community organizations. Collaborative efforts and the implementation of effective policy solutions can help make progress toward reducing homelessness and providing stability and dignity for those who are experiencing it.