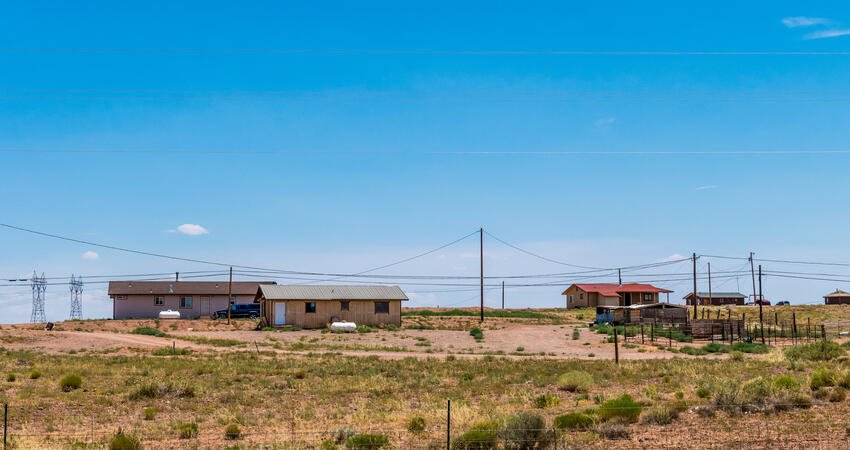 Funding and Flexibility Would Allow Tribes to Better Adapt to Climate Change
Since the founding of this country, the United States government has persecuted tribal communities and forced many to relocate—resulting in the loss of 99 percent of their ancestral land. Today, the areas to which tribes were forcefully relocated are some of the most vulnerable to climate change.
Exacerbating these hardships, the federal government has severely underinvested in the housing and infrastructure of tribal communities, resulting in substandard and overcrowded housing conditions, lack of safe and accessible water, and unreliable electricity. Now, the effects of climate change compound these challenges. Fires, drought, and extreme heat in the Southwest; hurricanes, storm surges, and changing rain patterns in the Southeast; and flooding and thinning ice in the Pacific Northwest and Alaska threaten tribes' traditional practices and livelihoods.
Despite these challenges, tribes have been persevering on the front lines of the climate crisis through ingenuity, traditional stewardship practices, and their commitment to past, present, and future generations. More financial support would allow them to expand their efforts and better address the scale of climate risks in their communities.
Through the American Rescue Plan Act (PDF) and the recent Infrastructure Investment and Jobs Act, the federal government has allocated more money to tribal communities than ever before. But evidence (PDF) from the Coronavirus Aid, Relief, and Economic Security (CARES) Act suggests funding alone is not enough to erase centuries of neglect. Tribes need more flexible and accessible federal resources to address tribal housing challenges, mitigate worsening and future climate threats, and support large-scale adaptation solutions.
Here are how three tribes across the country are tackling different climate challenges facing their communities and ways federal policymakers can help close funding and implementation gaps.
How Navajo Nation is quenching drought
Throughout the Southwest, intense drought is causing wells, stream beds, small lakes, and ponds on the more the 27,000 squares miles of Navajo Nation to dry up. Some wells and an estimated 85 percent of homes are contaminated by the more than 500 abandoned uranium mines on Navajo land. Meanwhile, about 30 percent of homes lack running water.
Aridification doesn't just threaten the health of Navajo Nation. It also threatens their long tradition of sheep herding. To keep herding, some families drive long distances to get water for their livestock or voluntarily downsize their herds.
In the face of these changes, Navajo Nation is prioritizing water in their Climate Adaptation Plan, and they've used or plan to use the influx of federal funding to advance their water priorities. The tribe used more than $3 million of CARES Act funding to install new wells and watering points and to develop new catchment and delivery strategies. So far, they have distributed 232 water filters and purchased five water delivery trucks. The recently passed infrastructure bill will help build out physical water infrastructure, helping bolster local efforts on the ground, such as Dig Deep's efforts to bring water infrastructure to small communities through the Navajo Water Project.
But more flexible funding and tailored support is needed to empower the tribe to implement critical components of the adaptation plan. According to Nikki Cooley, comanager for Institute for Tribal Environmental Professional's (ITEP) Tribal and Climate Change Program at Northern Arizona University, almost every tribe is developing a climate plan, but there is hardly any implementation funding. Federal policymakers can look to the Bureau of Indian Affairs Tribal Climate Resilience Program and technical assistance providers like the Rural Community Assistance Partnership and ITEP to help build Navajo Nation's capacity to deploy these resources and to implement regulatory changes, like requiring homeowners to install water-efficient systems in homes, encouraging water and energy efficient designs in buildings, and operationalizing gray water reuse to sustain plants.
How the Lumbee Tribe is filling a housing gap
The Lumbee Tribe of North Carolina, headquartered in Pembroke, is the largest tribe in the eastern United States but does not have federal recognition. The tribe receives some funding from federal agencies but, without federal recognition, its 55,000 members are excluded from millions more dollars in community benefits, including from CARES Act funds.
In 2018, tribal members living along the Lumber River in southeastern North Carolina had not yet recovered from 2016's Hurricane Matthew when Hurricane Florence hit. The hurricanes damaged the Lumbee Cultural Center Lake, which serves as a ceremonial and convening space for the tribe. Flooding, strong winds, and falling trees associated with Florence also damaged at least 138 of the 417 Pembroke homes insured by the Lumbee Tribe.
The hurricanes exacerbated the already short supply of rental housing. Despite the devastation and shocks to the housing supply, many community members are staying because of their attachment to family, property, the land, and the river.
The tribe is building 50 new rental units outside of the flood plain for residents displaced by Hurricanes Matthew and Florence. The development will drain water away from the homes, and units will be able to withstand heavy winds. In October, the Pembroke council approved building 12 single-family low-income rental homes on another plot of land for Lumbee members to address the "desperate" need for housing as a result of the hurricanes.
The Lumbee tribe, one of the few state-recognized tribes that receives funding from the Native American Housing and Self-Determination Act (PDF), is using a mix of US Department of Housing and Urban Development and local foundation funding to support these projects, but they are only beginning to address the scale of the tribe's housing challenges.

Although some households in Pembroke received funding from the Federal Emergency Management Agency's (FEMA's) Individuals and Household Program, none of these funds have been directly designated to the Lumbee Tribe. And many tribes have difficulty accessing FEMA's Hazard Mitigation Assistance Grants—grants intended to break the cycle of disaster damage—because of the numerous funding requirements, said Cooley.

In addition to providing new resources to address housing needs, experts in disaster recovery and mitigation have identified several changes to federal programs, including streamlining application and funding requirements, that could make existing resources easier to access for communities like the Lumbee. Additionally, granting federal recognition to tribes like the Lumbee would greatly expand the share of available resources.
How the Quinault Indian Nation is moving to higher ground
The Quinault Indian Nation, which spans more than 200,000 acres along the southwestern coast of the Olympic Peninsula in northern Washington, is losing land to ocean encroachment because climate change is increasing the likelihood of tsunamis, storm surges, and riverine flooding.
To adapt to the changing landscape, the Quinault Tribe received funding to develop the Taholah Village Relocation Master Plan (PDF) for a managed retreat from the coast. This phased relocation began with the construction of a new school that will sit on higher ground in the Upper Village, about 2.5 miles away from its current oceanfront location. The move is not far but will make a big difference. Not only will the Upper Village sit out of the floodplain, but the new location will also ensure access to goods and services that would be cut off if State Route 109 were washed out.
Developing the Master Plan—which articulates land uses, development standards, lot lines, and building design—was a necessary precursor to the Quinault Housing Authority building 70 homes in the Upper Village. The planning process aims to ensure affordable housing options, the construction of green and resilient infrastructure systems, and the continuation of government services for those who wish to relocate from the Lower Village, where approximately 175 homes sit in harm's way. Village-wide meetings are being conducted to understand the preferences of villagers and to inform the creation of community design standards and principles that will guide future land-use decisions.
The tribe used a grant from the Administration for Native Americans to fund the planning process, and in July, the US House of Representatives passed new federal funding to support tribal relocation in western Washington. The $500,000 for the Quinault Indian Nation will be used to develop infrastructure in the Upper Village, including streets, water, and power utilities.
But this is a drop in the bucket compared with the close to $150 million it will cost to implement the vision. Diffuse and fragmented funding makes a large-scale and holistic managed retreat difficult to execute. Federal policymakers can smooth the flow of capital to tribes through cross-agency coordination of revenue streams and make the timing and use of funds more flexible to match tribal funding needs.
The Navajo, Lumbee, and Quinault Tribes exemplify the important mitigation and adaptation efforts that tribes are leading in their communities and demonstrate the need for more accessible and substantial resources to address the scale of climate change on the ground.
Their stories echo the sentiments of tribal leaders from across the country: if federal policymakers want to redress harm, advance climate justice, and respect tribal sovereignty, they can continue investing in tribal communities and empower tribes with the flexibility and decisionmaking authority to prioritize and deploy these resources in ways that align with their values.