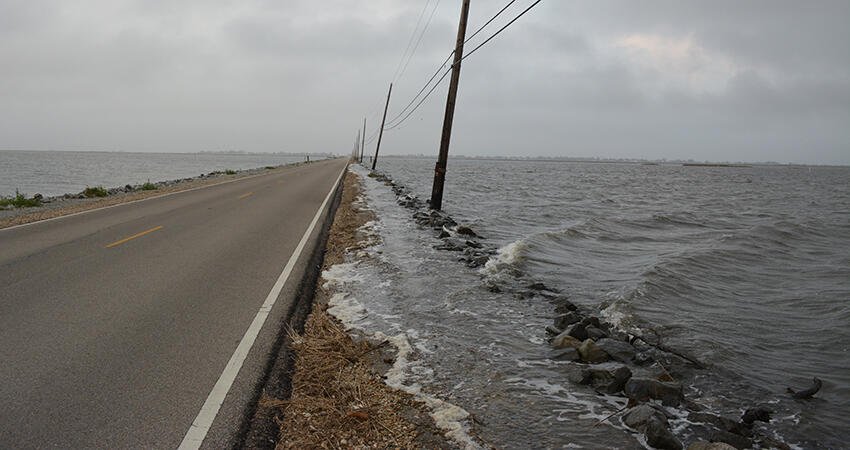 Lessons from the Frontlines: How Residents in Coastal Louisiana Are Adapting to Climate Change
Title:

Getting By and Getting Out: How Residents of Louisiana's Frontline Communities Are Adapting to Environmental Change

Author:

Marla Nelson, Renia Ehrenfeucht, Traci Birch, Anna Brand

Source:

Publication Date:

2021
The accelerating pace of climate change is disproportionately affecting communities of color and communities with low incomes across the United States, testing the ability of US mitigation and adaptation programs and policies to adequately address changing environmental conditions without perpetuating inequality. Policymakers need to understand how residents and communities are already adapting on the frontlines of environmental change to inform policy and program development.
This study examines how residents in Terrebonne Parish, Louisiana, make adaptation decisions and how policy barriers can constrain adaptation choices and outcomes.
Coastal communities in Terrebonne Parish face tremendous risk from rapid land loss and potential sinking. Without additional coastal protection, the parish could lose an additional 41 percent of land area over the next 50 years. To understand how residents are navigating these changes, researchers conducted 58 semistructured interviews with current or former residents of the parish's coastal communities and 29 professionals who worked in the study area, more than half of whom lived or had lived in those communities. The interviews focused on how residents are adapting to sudden and long-term environmental change, what forces drive resident responses to relocate or adapt in place, and how government policy shapes adaptation actions. Researchers coded the responses to identify broader patterns across residents' experiences, priorities, and concerns; the challenges and opportunities in coastal communities; and knowledge about the complex factors that shape decisions to adapt in place or relocate.
The interviews surfaced several key factors that influence resident participation in and outcomes of mitigation and relocation initiatives.
Key findings
Increased environmental hazards create a compounding migration cycle. Southern coastal communities in Terrebonne Parish saw population declines in recent decades as residents moved to areas less susceptible to flooding with more job opportunities. As more residents moved, public facilities and locally serving businesses closed, making life in these communities less convenient and weakening cultural ties and social networks. Respondents noted this is particularly challenging for older residents, who are less likely to move.
Adaptation is an ongoing, dynamic process. Households engage in formal and informal adaptation measures over time, where they may adapt to stay but subsequently move. This requires multiple forms of assistance for the same property or household over time. For example, almost all respondents who had relocated had taken steps to adapt in place before moving. But even residents who make adaptations and plan to stay have considered moving and constantly reevaluate whether to move as conditions change.
The timing of mitigation and buyout programs is often misaligned with how residents make decisions about rebuilding or relocating. In the United States, most mitigation and relocation funding is tied to disaster declarations, and funding itself takes a long time to reach households. This creates a constrained time window for residents to make critical decisions about rebuilding or relocation. For example, buyout processes are complicated and lengthy, which often forces homeowners to rebuild in place even if they'd prefer to relocate. For those who rebuilt but are still interested in a buyout, relocating is often not possible if the benefits received from home repairs are deducted from the buyout payment, reducing residents' relocation resources.
Current mitigation programs deny resources to frontline communities by creating participation barriers for households with low and moderate incomes. For example, federal flood insurance is often too expensive for many households with low and moderate incomes, especially those living in flood-prone areas. Yet flood insurance is required to receive some forms of mitigation assistance, including FEMA's Flood Mitigation Assistance Program. Programs that don't require participants to have insurance to receive funding to elevate, reconstruct, or relocate their homes, like FEMA's Hazard Mitigation Grant Program, require homeowners to carry insurance on their property after the mitigation improvements have been made. But this additional expense is often unaffordable to households with low incomes.
Current buyout programs also create barriers to relocation and perpetuate inequalities for households with low and moderate incomes. Long wait times disproportionally affect residents with lower incomes because they may not be able to pay for temporary housing as they await the completion of the buyout. Once buyout funding is available, it is often insufficient to enable participants to purchase a comparable house in areas of substantially lower risk within the region. Federal relocation programs are typically based on fair market values, and property values are low in hazard-prone areas with weak housing markets. Residents relocating under these circumstances may have little choice but to move to another low-cost, high-risk area; move into lower-quality housing; or be forced to transition from homeownership to renting. Residents may also incur new expenses, like insurance, property taxes, and mortgage payments, they didn't have in their original homes, especially if they owned the home outright.
Policy implications
The authors note that policymakers must understand the dynamic nature of decisionmaking to develop assistance programs that account for multiple adaptations over time, which may require multiple types of assistance for a given property or household.
The authors encourage local and regional authorities to shift from focusing only on disaster recovery toward long-term adaptation and for federal programs to enable this evolution. To achieve this, they suggest both timing and funding of adaptation programs should be flexible and separated from disaster recovery.
Local and regional authorities should engage in disaster planning to better understand community members' perspectives on mitigation and adaptation, build resident trust, develop adaptation options that better meet residents' needs, and potentially speed the mitigation and buyout processes in the case of another disaster.
The authors suggest that incentives, such as additional compensation, moving expenses, closing costs, or legal and support services before, during, and after relocation, are needed to assist residents of frontline communities in finding adequate, comparable housing and offset the costs of moving. They also note that relocation assistance should cover the needs of renters and residents who lack clear title to their property or own a home on leased land.