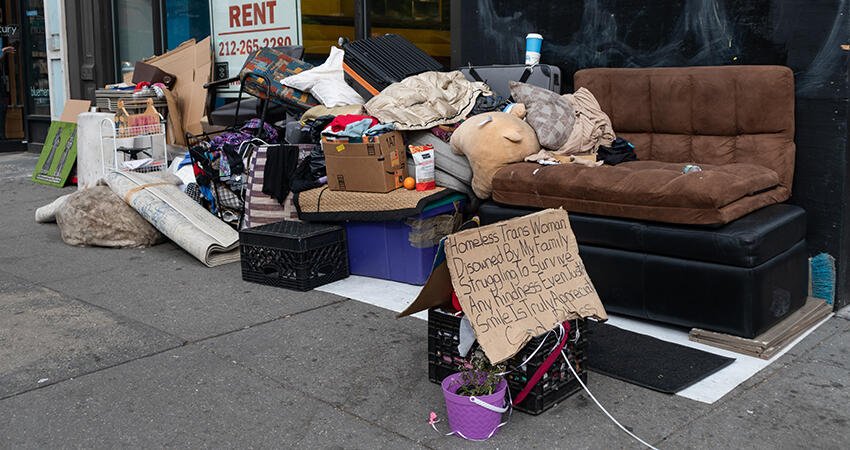 Did Calling Encampments "Homeless Hot Spots" Change the Policing of Homelessness in NYC?
Title:

From Encampments to Hotspots: The Changing Policing of Homelessness in New York City

Author:

Eric Goldfischer

Source:

Publication Date:

2019
In 2015, New York City began publicly targeting homeless encampments—or groups of two or more people experiencing homelessness in public spaces—to reduce the visibility of unsheltered homelessness. Officials cleared encampments in neighborhoods across the five boroughs. When doing so, they shifted from using the term "encampments" to "homeless hot spots." This study explored the effects of this language shift, finding selective enforcement of visible "hot spots" in recently gentrified neighborhoods.
The author collected data from over three years of ethnographic fieldwork with a homeless-led community organization, which consisted of regular outreach with sheltered and unsheltered homeless people, meetings and other organizing events, qualitative surveys to homeless people, and a focus group with members of the homeless-led advocacy group. In addition, the researcher conducted 10 supplemental interviews with law enforcement and other public officials to further understand processes taking place during the shift in language to "homeless hot spots," while focusing on how people experiencing homelessness in NYC were affected by hot-spot policing. The author also compiled policy documents and policing guidelines, such as police manuals and public space regulations, which laid out the definitions of encampments and hot spots. Lastly, he leveraged NYC'S 311 system data to track complaints made about people experiencing homelessness.
The author found when officials shifted from "encampments" to "homeless hot spots," they targeted people living in public spaces not by assessing the physical structures of encampments, but by determining whether they "looked homeless." He argues the shift changed enforcement practices, such as move-on orders and involuntary psychiatric commitments.
Key findings
The new definition of "homeless hot spot" turns police attention away from infrastructure, such as encampments, toward people and the problem of "looking homeless."
Police determine areas where homelessness exists based on information they receive via community complaints in community council meetings and 311 or 911 calls.
Residential areas that receive that most 311 complaints are located within recently gentrifying neighborhoods.
Ninety-seven percent of survey respondents reported being harassed for appearing homeless. During move-along orders, they reported hearing phrases such as, "The people moving up here don't want to see you anymore" and "You can't be here."
Policy implications
This study demonstrates the relational nature of homeless hot spots, which is characterized by the onset of gentrification and increasing housing costs. This suggests homeless hot spots and areas where housing costs are increasing (e.g., gentrifying neighborhoods) are coproduced and dependent on each other.
The author posits there should be a shift in housing studies toward an approach that spatially maps how homelessness and housing are interconnected, are encoded in policy, and subsequently enforced through policing.
Mapping the spatial relationships between homelessness and housing can help contribute to the development of evidence-based policy and practices to address the root causes of homelessness.