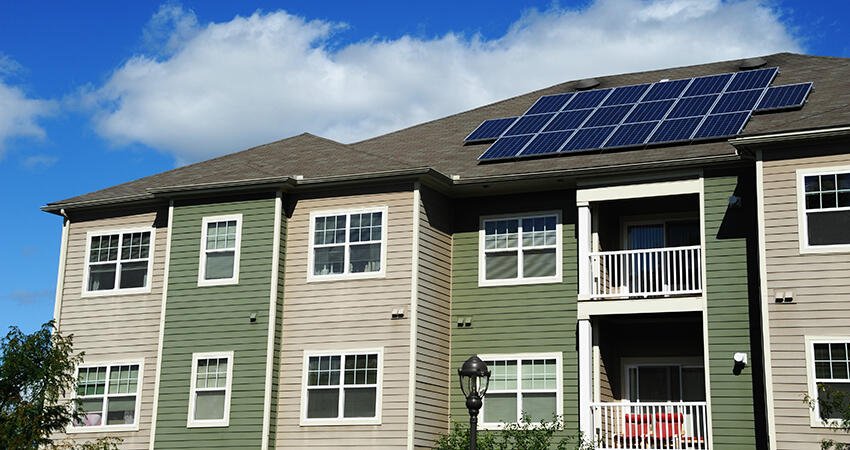 Will the Inflation Reduction Act Increase Equitable Access to Green Housing?
To protect housing against climate-related damage, "greening" residential homes—or making upgrades that more efficiently use energy, water, and building materials—is becoming increasingly desirable. In addition to improving the environment, green adaptations may decrease utility costs, provide protection from natural disasters, and help fight pollution within their neighborhoods, which can lead to health benefits (PDF) for residents.
Though greening homes has many benefits, it can be unaffordable for people who may benefit the most. Many "green" home technologies, such as passive solar technologies, ecofriendly insulation, high-efficiency appliances, and sustainable building materials are expensive. Energy-efficient lights cost up to four times more than incandescent bulbs, and solar hot water units cost thousands of dollars. Many residential homeowners have been hesitant or unable to afford implementing these green practices without external financing or assistance.
Racial and ethnic disparities in income and wealth also limit who can afford these large-scale home investments. Because of systemic racism in the US's policies and practices, Black and Latinx households have less than one-fifth of the average wealth levels than white households. They also have lower homeownership rates, so they're less likely to have energy retrofits in their homes. Because more Black and Latinx residents are renters than homeowners, green retrofits are not reaching nearly as many who would benefit from them.
And because of wealth disparities, racial inequality in local investment and access to credit for home repair (PDF), homes in Black neighborhoods tend to be older, use more energy, and thus have relatively expensive energy bills. They are also most likely to be located on urban heat islands and in areas susceptible to natural disasters.
Increasing access to green technologies for Black and other residents of color can help reduce racial inequities and improve climate resiliency. The Inflation Reduction Act (IRA) may begin to address some of these challenges, but additional policies are needed to ensure no one's left behind.
The IRA's benefits for green housing
The IRA included several climate-related efforts (PDF), including $369 billion for lowering energy costs and reducing carbon emissions. The bill incentivizes the average homeowner to use solar power by extending the residential solar tax credit, and includes tax credits for electrifying homes and vehicles, allowing households to save on energy-efficient cooling and heating units. Households can also save up to 30 percent on weatherization measures, like insulating windows and passageways, and can obtain rebates with their purchase of electric and energy-efficient appliances.
The IRA also incentivizes sustainable, affordable housing with tax credits for community-level solar projects. The bill provides a 20 percent bonus credit for these projects within federally subsidized affordable housing projects, as well as a 10 percent credit for those built in communities with lower average incomes. In addition, the legislation establishes a Clean Energy and Sustainability Accelerator intended to prioritize over half of its heat-pump and community solar investments into disadvantaged communities.
On a larger scale, the IRA created the Environmental Justice Block Grant program to reduce pollution within areas with primarily Black residents and other residents of color and areas with lower incomes. It also expands tree planting and other grant programs to cool down neighborhoods and protect against extreme weather events. Lastly, small business owners can receive a 30 percent tax credit to transition to low-cost solar power, and they can take advantage of tax deductions for making other energy-efficient improvements.
Additional policies are needed to close racial and ethnic disparities in access to green housing
Though the IRA created historic investments in climate and green efforts, gaps still exist. Its emphasis on tax credits doesn't necessarily target households that could benefit most.
A one-size-fits-all credit won't close energy and wealth gaps between populations, given the inequitable geography we're building on. Many of the households with the greatest need for home repair and greening are also those least able to afford these upgrades. A flat credit doesn't close these gaps because households can only take advantage of it when they have the funds to make upgrades upfront—which is unlikely for those with lower incomes. Incentives to create sustainable housing and transitions to electric vehicles would have a greater impact paired with investments in affordable housing and public transit.
And while homeowners and housing developers are the target of these benefits, renters are not privy to as much direct assistance. Though they may reap environmental and health benefits depending on their neighborhood or landlord's program uptake, renters seem otherwise left out. Because Black homeownership is at 43.4 percent, many renters have no increased direct access to climate resiliency. So climate resilience efforts to help Black residents and those with less wealth may require more federal attention in the rental housing sector.
Solutions that could help close these gaps include direct grants to households with lower incomes, consistently defined environmental justice criteria, investment in green public transportation, and policies that bring property managers' benefits to renters.
The IRA investments will yield considerable change, but without an approach that equitably targets households most in need, the question remains if these efforts will improve access to green housing for all.