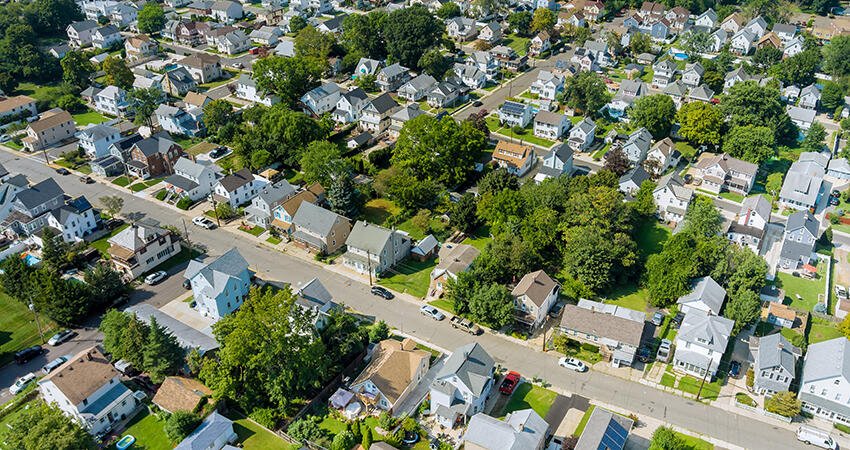 Three New Approaches for Expanding Homeownership Opportunities for Households of Color
The current housing market is daunting for first-time homebuyers. In most markets, home prices have only decreased slightly since the record highs during the pandemic, and recent interest-rate hikes pushed the 30-year mortgage rate to its highest levels in two decades.
For Black and Latinx households, who are most likely to be first-time homebuyers, homebuying obstacles can be even greater than for white buyers because of the historical and ongoing effects of structural discrimination. The legacies of housing and labor discrimination mean households of color tend to have lower incomes than their white counterparts, are less likely to receive intergenerational wealth transfers to help with down payments, and often have less established or poorer credit histories. In fact, the homeownership gap between Black and white households is currently at its widest in 10 years.
Though homeownership is not a silver bullet for wealth-building, owning a home provides significant stability and can lower housing payments over time. Therefore, it's imperative that policymakers, lenders, and service providers quickly learn how to navigate the current market to ensure equitable access to this opportunity for stability.
Through the Housing Innovation Program, Urban is working with several organizations supported by grants from JPMorgan Chase seeking to provide pathways for first-time and first-generation homeownership in this highly competitive housing market. These programs are leveraging federal programs and creating new lending products to help Black, Latinx, and other households of color not only achieve, but also sustain, homeownership. Here's what they are trying:
Leveraging new federal policies. The Housing Partnership Network (HPN), as part of a coalition of organizations called the Community Aggregators Group (CAG), is leveraging new US Department of Housing and Urban Development (HUD) distressed-asset sale policies to obtain affordable properties at scale. CAG rehabs and sells these properties at a discount to their national members and affiliates, including community development financial institutions and mission-driven nonprofit organizations, thus helping address one of the largest barriers in today's market: finding affordable housing stock in markets with constrained supply.
Using traditional federal programs in new ways. Atlanta Neighborhood Development Partnership (ANDP) has a history of using federal programs to meet its goal of increasing affordable homeownership in Atlanta. During the Great Recession, ANDP leveraged HUD's Neighborhood Stabilization Program to redevelop local foreclosed homes and sell them at a discount. Now, ANDP is leveraging the US Department of the Treasury's New Markets Tax Credit Program to subsidize its housing deals, lowering its overall costs and passing those savings to new homeowners.
Creating new lending products. The Center for Community Self-Help (Self-Help) has created two new lending products to improve homeownership access and stability: Equity Boost and Savings Account for Emergencies (SAFE). Equity Boost is a high-loan-to-value loan product with up to a $15,000 interest-free loan (up to $30,000 in high-cost markets) that provides up-front funds or lowers the monthly debt payment for the borrower. Equity Boost is similar to a down payment assistance program and is blended into a first mortgage, thus lowering the down payment barrier for first-time homeowners. Self-Help's SAFE account acts as a mortgage reserve account seeded with an initial $2,000 and a requirement to contribute $25 per month to the account. SAFE creates a buffer against the many unforeseen life events that can lead to a foreclosure.
Though these innovations and products aren't yet proven at scale, they present creative new avenues that could help expand homeownership rates for households of color, even during times of market headwinds:
Leveraging HUD's new distressed-asset sale policies enabled HPN and their bidding partners to sell its first few assets to their member nonprofits at a discount—which is particularly helpful to open homeowner opportunities to households of color in a high-mortgage-rate environment.
ANDP is on track to double its scale in the next six years and to grow the scale of their existing partners by 15 to 20 percent each year. As a partner of mostly Black-owned developers and contractors, these efforts are estimated to boost Black wealth not only in homeownership outcomes but in entrepreneurship gains as well.
Self-Help is using lessons learned from initial implementation of their lending products to pair SAFE accounts with loans that they buy from minority-owned financial institutions in the secondary market to reach even more borrowers of color.
More research is needed to track progress of these innovations and determine ways to scale aspects of their models that work. But thus far, they offer a creative path forward policymakers can consider as they strive to advance equitable homeownership opportunities for households of color in today's market and beyond.