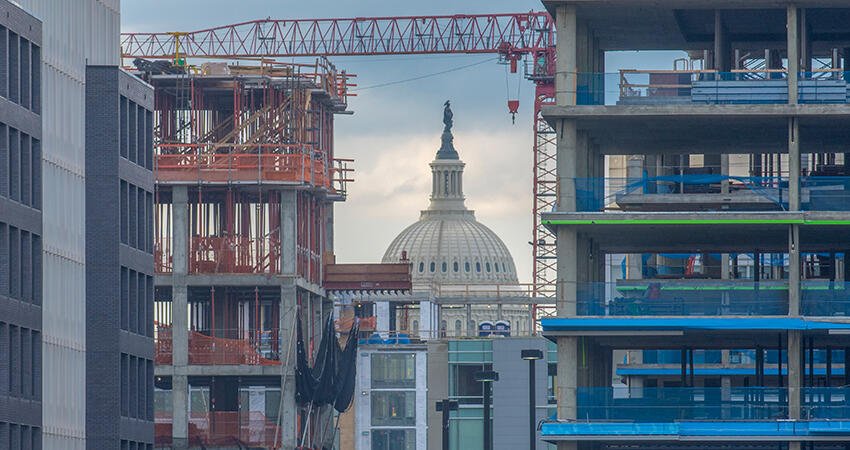 Three Ways Local Policymakers Can Confront Development-Directed Policing in Washington, DC
Evidence shows that in gentrifying neighborhoods, police help drive displacement by proactively protecting and responding to the priorities of newer residents and businesses, who are disproportionately white and more affluent than long-term residents, and surveilling and criminalizing the behaviors of long-term residents, who are disproportionately Black and Latinx. This phenomenon is known as development-directed policing.
Until the mid-20th century, lenders, real estate agents, white residents, and elected leaders explicitly blocked people of color from opportunities to own property, build wealth, and occupy the most-resourced neighborhoods by codifying racist exclusion into law and perpetuating it via racially restrictive covenants, redlining, and blockbusting.
Today, housing and neighborhood outcomes (as measured by residential segregation, exclusionary zoning policies, the Black-white homeownership and appraisal gaps, and documented discrimination by real estate agents) signal that structural racism in housing persists. Simultaneously, policymakers and elected officials use police forces, which emerged from patrols that tracked and captured enslaved people, to assert social control in majority-Black communities (PDF) and criminalize Blackness. This history is critical for understanding that by prioritizing market and property interests, police further serve the interests of white, more affluent residents and businesses—a trend clearly apparent in DC.
In the District of Columbia, rising property values and rents, the growth of the police budget, and the disproportionate rates of both displacement and low-level arrests among Black residents raise red flags that city leaders, developers, homeowners, and new residents enable and encourage development-directed policing to protect market interests.
To learn more about development-directed policing in DC, we spoke with Brenden Beck, a researcher from the University of Colorado, Denver, whose research explores the connection between housing markets and policing; Tazra Mitchell and Eliana Golding, researchers from the DC Fiscal Policy Institute with expertise in the district's budget process; and Patrick Gregoire, a right-to-housing organizer with ONE DC.
What does development-directed policing look like in DC?
Although researchers have not explicitly studied development-directed policing in DC, several trends from the data and our conversations with local experts raise red flags about the relationship between low-level policing, gentrification, and displacement in the district. They include the following:
How can policymakers address development-directed policing?
The experts we spoke with suggested a range of actions policymakers could take to mitigate the immediate harms caused by development-directed policing, shift power to people who are most harmed by these oppressive structures, and invest in systems of care that support the needs of long-term residents.
Address the immediate harms of policing and housing insecurity

To mitigate the harms of development-directed policing and prevent displacement, Beck suggested policymakers can start by repealing nuisance ordinances and reducing misdemeanor arrests and stops that are exacerbating housing instability and incarceration across DC. Evidence shows nuisance property ordinances disproportionately target Black residents and residents with mental illnesses and can empower and encourage landlords to evict tenants because of biased or unwarranted police enforcement at a property. Repealing these ordinances would prevent punishing people because they have fewer resources. Gregoire also urged policymakers to relieve the rent burden for households to prevent another massive wave of displacement in DC. Policies like cancelling rent and equitably administering rental assistance will be critical to securing immediate housing stability for Black and Latinx renters.
 
Follow the lead of organizers in communities directly affected by development-directed policing

To stop development-directed policing, the people most affected must lead. Mitchell and Golding encourage DC policymakers to center the voices of people most affected by displacement and policing in the annual budget-making process and the planning process for the 10-year comprehensive plan. Community leadership and input on these processes will be critical to developing the solutions that can curb police-related violence and displacement and address long-standing spatial inequities in DC. Gregoire emphasized that researchers and policymakers must reckon with the "fact that the people who work on [these issues in policy] are not those impacted by it. There's no way this is getting better unless people being impacted are at every single table where decisions are being made about this."
 
Defund the police, invest in housing

Community activists such as Stop Police Terror Project DC and the Defund MPD Coalition are pushing for local governments to defund the police and instead invest those resources in education, housing, and health services. Golding offered a couple of budget approaches that could build on community groups' work to address both displacement and policing. First, policymakers could consider moving operating expenses from the MPD budget to pay for additional tenant services staff time to help residents take advantage of existing legal protections and to fund legal services to prevent eviction and displacement, especially in the wake of the pandemic. Second, policymakers could consider moving money from MPD to fund deeply affordable housing, which contributes to community safety by strengthening resident stability. Both Beck and Gregoire add that preventing displacement requires strengthening and enforcing tenant protections and empowering tenants to take advantage of right to stay laws, like the Tenant Opportunity to Purchase Act. Strategically shifting funds from MPD to invest in these types of housing preservation and protection activities could help mitigate the harm from development-directed policing.
These priorities represent a starting point to begin confronting structural links between displacement and policing, but as Gregoire points out, combating development-directed policing in DC is "going to be a lot of protracted fighting on multiple fronts; it's a narrative fight, a resource fight, an optics fight." He added, "There's no way to get this done politely while wearing a suit and reading over white papers—that's an important part of the process but that's all it is—one part."